Gold Cross Necklaces: A Touch of Glamour
The accessories you choose to go with your clothing can make or break your entire day or night. Statement jewelry is a one-of-a-kind and daring piece of jewelry that allows the wearer express themselves via their physical appearance. Both men and women can use jewelry to express themselves and their personalities.
You do not have to walk into jewelry stores and waste time looking for the perfect pair of earrings to match your evening gown or a magnificent necklace to complement your formal gown since Stracy's Store has you covered!
Jewelry with Exquisite and Finest Designs 
Are you looking for a way to spice up your complete outfit with some truly unique accessories? Do not worry, Stracy's Store has all the answers to your fashion-forward jewelry questions. Stracy's Store is a unique online jewelry company founded on a desire for excellent jewelry. Not only do we provide men and women with easy online access to gorgeous jewelry, but we also give our knowledge as an online jeweler to our long-time and new consumers! Every piece of jewelry on our website has been hand-picked for its distinctive and original style and design, ensuring that it complements the wearer's appearance. To put it another way, we make certain that we have a wide range of stunning modern and traditional jewelry. Our jewelry website has a diverse selection of styles to suit a wide range of interests and demands. We recognize that no two jewelry lovers are the same, therefore we make sure that our clients have a wide selection of modern jewelry to choose from. If you shop for jewelry on our website, you will probably certainly discover the style you want!
Gold Cross Necklace for Women.
Complete any of your everyday looks with Gold, White Gold, and Rose Gold necklaces from Stracy's. Our vast selection of Gold Cross Necklaces for Women & Men offers many different styles and design options that provide a timeless appeal that is sure to enhance your appearance. Shop the selection of jewelry at Stracy's, and get ready to make the commitment to style!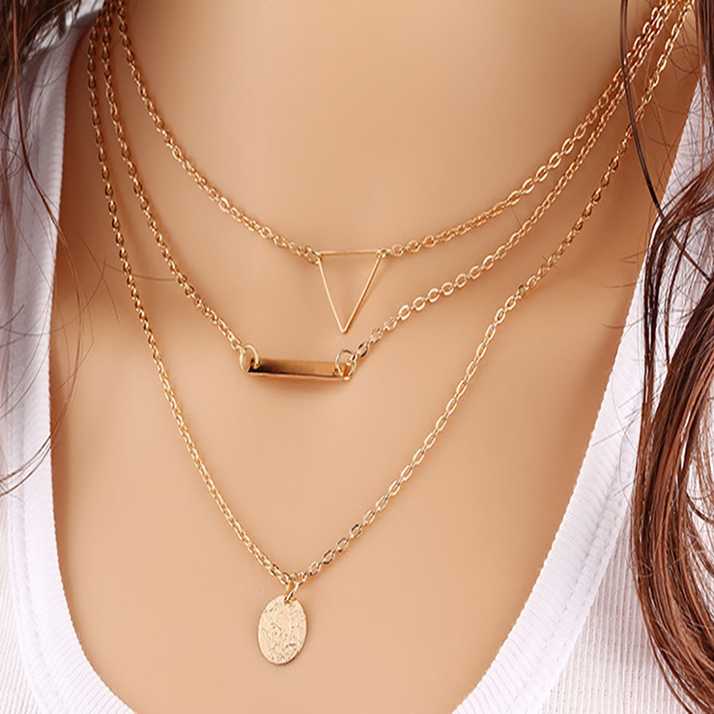 Stracy's has a wide variety of men's and women's jewelry to choose from, with many different styles and designs available, including gold cross options, including gold chain for men and women choices, and gold pendant styles, so you can be sure you will find the right option you need to make your special outfit even more elegant. At Stracy's, you know that you can find all the men's and women's jewelry options necessary to ensure you are ready for the day. Be sure to shop our full line of jewelry for the family and add an extra touch of timeless style to everyone's wardrobe!
Gold Cross Necklaces for Women and men from Stracy's Store offer a classy appeal that ties an entire look together! Find all your jewelry essentials at Stracy's and design a look you are surely going to love!
Stracy's Store has a large selection of women's necklaces.
Necklaces are an excellent method to bring attention to your neck, especially if your top has limitations. 18k gold lock pendant and love pin peach heart key necklace are among the many varieties of necklaces and pendants available. For the perfect finishing touch, add a statement piece or layer your outfit with a chain necklace.
At Stracy's, we have a large range of necklaces that are also available on our website. We have different styles and designs of necklaces, including gold, white gold, rose gold, and gemstone necklaces, that you may use to enhance your entire outfit.
On our website, you can find 18k rose gold, white gold, and yellow gold cross necklaces that will match your outfit. It is one of our most popular designs from our extensive collection. For both ladies and men, we have the widest selection of chains, pendants, layered necklaces, pearl necklaces, cross necklaces, and chokers to accessorize their clothes.
Furthermore, we offer the most reasonable and economical pricing, as well as assured high-quality jewelry. In today's society, you do not have to worry about spending a fortune on jewelry because all of our pieces are really affordable. We also offer international shipping, so you do not have to go to a jewelry store to buy something for yourself or your loved ones. We also provide refund and exchange within 30 days of our policy, so if by any chance the item you received was damaged, you can easily return or ask for a return by providing a little proof of it.
Exceptional quality.
Stracy's Store ensures that the quality of the jewelry we give is of the highest standard. The rose gold jewelry for women and men offered on our website is one-of-a-kind and distinctive in style, ensuring that you look radiant and feel fascinating when you wear it with your favorite attire. We make certain that the amount you pay for the quality of jewelry is both reasonable and worth it, making it extremely affordable.
We are proud to be one of the most trendy jewelry websites on the internet, as well as one of the top affordable jewelry manufacturers. High-grade Austrian crystal rhinestones are used in all of our fashionable designs, ensuring excellent quality, effortless glamour, and long-lasting elegance.
Order your Necklaces right now! 
You do not have to wait any longer to get your hands on lovely and fascinating necklaces. Stracy's Store has a beautiful and inexpensive assortment of exquisite jewelry available with just one click. We look forward to assisting you in your search for the perfect bracelet, and whether it's for him or her, or even for the kids, we've got you covered with the finest and trendiest designs of modern and classic gold jewelry, particularly necklaces!
Stracy's Store is the finest place to go if you want to buy elegant and trendy jewelry online at a fair price and of the highest quality.
A Complete Ecommerce Business, Shopify Stores for Sale on XeeDevelopers.