How to care for your luxury rings?
Everyone likes jewellery, but only a few are truly enamoured with it. If you are a jewellery collector, you will always have a large selection of jewellery to choose from whenever you go out. Because a piece of jewellery complements your clothing more than anything else, finding a good item that you can wear for various situations is essential. Stracy is available to assist you.
If you're looking for a piece of jewellery, we'll assist you in finding the ideal set!
Rings are a fashionable accessory. They're a must-have item for your hands. They're also great as a present for your significant other. A memorable occasion such as a wedding necessitates the exchange of rings! Stracy's is where you'll find the right ring design. Luxury rings in a variety of styles and materials are available! Rings made of gold or silver with crystals inserted in them. People who are interested in crystals could visit Stracy's Store to discover the right ring with their favourite stone. Rose rings and other stunning designs enhance your appearance.
Our 18k gold plated geometric rhinestone ring is a stunning piece of jewellery that is sure to bring happy tears to your significant other's eyes! Our stainless steel hip hop bike chain ring is certain to appeal to a man's sensibilities. It has a refined appearance and oozes wealth.
Diamond luxury rings, like any other valuable item, require some tender loving care and attention. Caring for your luxury ring necessitates thought, although it is far from difficult. In this blog, we'll provide you advice on how to care for your luxury ring, as well as a step-by-step cleaning guide and recommendations for ring protection.
How to Remove Your Ring Correctly
Only one method is safe for removing your luxury ring from your ring finger: gently pull from the edges of the band and wriggle until the ring slips past your knuckle. If you're attempting to remove your ring and it's becoming stuck, be calm; it'll come off! If your finger is swollen for any reason and you're having trouble removing your ring, remember to gently wiggle the ring instead of yanking it off. If the ring still won't come off, try soaking your hand in cold water or applying ice to reduce the swelling. Removing your luxury ring from the centre stone is a certain way to tarnish your diamond while also putting undue stress on the centre stone setting.
When You Shouldn't Wear Your Ring
While we appreciate your desire to show off your beautiful luxury ring as much as possible, there are few occasions when wearing it could cause damage to the centre stone or band. These are some of the occasions:
Wearing your luxury ring while exercising, whether lifting weights or reaching a personal best at spin class, may dirty the ring or damage the setting. Household chores cleaning, moving furniture, arranging, and anything else that involves regular contact with a surface fall into this category. While you're sleeping. The prongs that hold your lovely centre stone in place could easily become entangled in a thread from your bedding. The security of your centre stone could be jeopardised by loose prongs. While hand washing may appear to be a harmless practise, strong soaps and tap water can contaminate your diamond. Remove your luxury ring before washing your hands if possible (and safe). Showering can also smear the centre stone of your luxury ring and the pave diamonds.
We advise you to be cautious about the jewellery you wear with your luxury ring, particularly wedding rings or costume jewellery worn on the middle finger. Larger stones or prong settings on wedding bands can rub against your luxury ring, causing damage to both rings.
Our design advisors will talk to you about safe wedding band pairings so that your luxury ring and wedding band stay together.
Diamonds have a natural tendency to cling together. Dirt, grime, dust, and fingerprints will stick to this gemstone quickly. Hand washing, an unintentionally messy cosmetics application, or sudsy showers can all cause your diamond to lose its lustre. Cleaning your diamond luxury ring on a regular basis will keep your precious stone in great shape, both visually and functionally.
What not to use to clean your rings?
Under no circumstances should you clean your luxury ring with the following products:
Toothpaste
Boiling Water
Vodka
Ketchup
A brush for cleaning dishes
Any brush with a hard bristle
While there are plenty of wild luxury ring cleaning "hacks" on the internet on how to clean your luxury ring, we advocate avoiding any of them to protect your valuable diamond.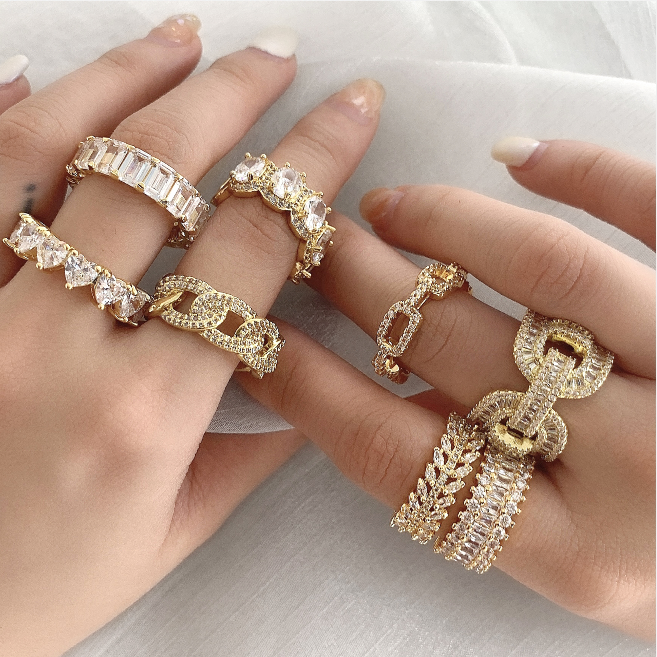 How to clean your rings?
What you need to clean your rings whether its crystal, gemstone or beads, you should always use these products to clean your rings which include a jar, dish soap, lukewarm water, soft bristle toothbrush and a microfiber cloth.
Add a few drops of dish soap to the warm water in your jar.
In the jar, put your ring. Allow it to sit for a couple of minutes.
Remove your luxury ring from the water jar and brush it gently with your soft bristle toothbrush. Brush from all angles, including the underside of the ring (this is where dirt and grime build-up likes to congregate).
To remove the soap and filth, wet the ring with fresh water.
Allow your luxury ring to air dry or wipe it clean with a microfiber cloth. If you use a paper towel, micro particles will be left on your diamond.
You won't have to wait long to get your hands on these eye-catching necklaces. Stracys Store presents a beautiful and affordable assortment of high-quality jewellery that can be purchased with a simple click. We look forward to supporting you in your search for the appropriate bracelet, and whether it's for him or her, or even the kids, we have the finest and most fashionable designs of modern and classic gold jewellery, particularly necklaces!
If you want to buy attractive and trendy jewellery online at a fair price and of the highest quality, Stracys Store is the best place to go.